by James J. Reis
In May of 1772, 16 year old Mary "Polly" Masters married the Lieutenant Governor of Pennsylvania, 36 year old Richard Penn, the Grandson of Pennsylvania founder William Penn.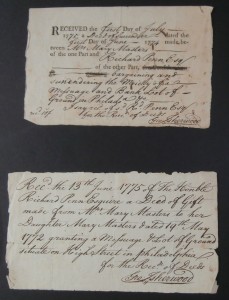 The bride's Mother, Mary Masters gave the bride and groom a "splendid city house" as a wedding present.  Located on High or Market Street, near 6th Street in Philadelphia.  The house eventually became the location of the Executive Mansion from 1790 to 1800, at which time the US Capital was moved to the Federal City, Washington, DC.
The Executive Mansion, the President's House in Philadelphia was the Penn's city house and later served as the Presidential Mansion for George Washington and John Adams from 1790 to 1800.  These 2 documents represent the receipt for the "deed of gift" and the surrender of the deed, and are dated 1775.
The history of the house is incredible as, during the Revolutionary War both General Sir William Howe and General Benedict Arnold lived in the house during their respective military commands in Philadelphia during the winter of 1777 and 1778.
The Penn's owned the property until 1785 then sold it thru their attorney Tench Francis, to Robert Morris, the financier of the American Revolution.  Morris leased the property aka 190 High Street to George Washington and built himself a house next door at the corner of 6th and High Street for he and his wife.
Richard and Polly Penn returned to England in 1775, when the Continental Congress entrusted him with the Olive Branch Petition of King George III.  The Penn's did not return to Philadelphia until 1808.